Article Highlights:
Twitter's character limit can produce challenges, but it can also be an opportunity for creativity. Use these 7 tips to write better tweets:
Keep it simple
Use visuals
Ask for action
Embrace the hashtag
Be human
Get emotional
Know your audience
Twitter is a powerful marketing tool, but its brevity creates some exceptional challenges. In just a sentence or two, you're expected to fit a branded message, hashtag, eye-catching image, and link, all while driving engagement. Luckily, those challenges present the opportunity for creativity and innovation through thoughtful editing and self-reflection.
Use these 7 tips to create interesting Tweets that don't break the character cap:
Keep it simple
Research (yes, actual research) has shown that Tweet copy with 50 characters or less generates 56 percent more engagement than Tweet copy with 50-100 characters, and it declines again with the next increase. While it isn't always feasible to keep it that simple, these statistics are a good reminder of how people like their Tweets: simple.
Use visuals
Visuals are a way to engage Twitter followers and keep the character count down. I'd venture to guess most of the "less than 50 character" Tweets include visuals. Use those visuals as a place to showcase compelling copy or a quote. And be certain to follow these guidelines so your published Tweets show up the way you intend.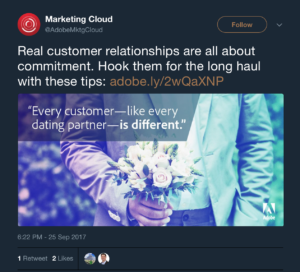 This tweet, created for Adobe Marketing Cloud by Stoke, includes a quote from the article it is promoting.
Ask for action
A "call to action" (CTA) is a marketing buzzword — and rightfully so. Marketers rely on CTAs to drive user engagement and conversion. Improve your tweet engagement by including CTAs right in the copy. Ask a user to learn more by clicking on your blog post, retweeting and sharing their opinion, replying and answering a question you ask, or engaging with a particular branded hashtag.
Embrace the hashtag
On Twitter, hashtags are ubiquitous. They promote search and generate group conversation, so aligning your content with a branded hashtag or other applicable hashtag can be a boon to your user engagement.
Be human
No one wants to read Tweets by a robot.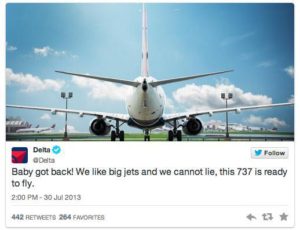 This tweet by Delta puts a smile on your face and makes you want to share with all your friends. Because it's just that good. You know a bot didn't come up with that.
One of Twitter's charms is the feeling that brands are backed by real-life people. Engage your audience, respond to them, and allow them to connect with your humanity. It is one of the best ways to maintain followers, and a great way to gain new ones.

Arby's loves pop culture and is even live-tweeting the Grammys? Yes, please.
Get emotional
Part of being human is the desire to connect. When your content connects emotionally, it's more likely to be shared. Whether it's inspiring, enlightening, or downright funny, emotions are your friends as self-expression and human connection are two main drivers of Twitter usage.
Know your audience
On Twitter, your audience is your consumers, and you should be thinking of them every step of the way. Use language your audience will understand and engage with. Figure out what they want. When you add value by informing or entertaining, your Tweets will go much further.
Whether you're a Twitter greenie or veteran, remembering these 7 tips will help you create content that engages your followers.
Share your content with us by tweeting us @thestokegroup.
---